Listings in Electronics
Showing results 1 - 2 of 2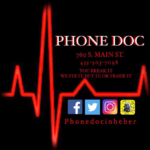 Veteran and Military Discount
10% accessories 5% repairs
Business Description
Cell Phone Repair in Heber City, UT
Whether your screen is shattered or your phone went through a wash cycle, turn to Phone Doc in Heber city, UT. We specialize in cell phone repair and sales of new and used phones.
Phone Doc to the Rescue
You depend on your phone and mobile devices. They store all of your contacts, calendar information, music, and more.
Yet, there was nowhere to take mobile devices for repair, so we opened our doors to save your data, if possible, and extend the life of your phone.
First Aid Service for Many Brands
Most likely, we have a relationship with your phone carrier. In fact, about 60% of our current business comes from referrals from the major carriers. Count on Phone Doc to repair brands including:
Motorola
Samsung
Apple®
HTC
LG
Quality Service & Competitive Rates
Customers love our personal 1–1 service. We handle issues from water damage to broken screens. In most cases, we offer same day, in-house repairs. You will appreciate great rates—70% less than the price charged by major brands.
435-503-7098
520 North Mainstreet Heber city, Utah 8403
84032
Veteran and Military Discount
15% OFF Excludes Samsung Screen repair
First Responder Discount
15% OFF Excludes Samsung Screen Repair
Special Veterans Day Discount
20% OFF Excludes Samsung Screen Repair
SUPVETS Members Discount Code
20% OFF Excludes Samsung Screen Repair
A personalized message to our Heroes
Thank you for everything that you have done, currently doing, or will do in the future. I wish I had the courage that you all have.
Business Description
Here in our Sandy, Utah office, we offer a complimentary diagnostic to determine the nature of your electronic issue right when you walk in. We hold ourselves to a high standard of integrity and service, so every exam is free of both cost and obligation. If you choose to proceed with your repair, our highly trained staff members will resolve the issue with expertise and efficiency. Most of our basic repairs take about two hours. And with millions of devices repaired, there's no wonder we're so fast - we're true industry experts dedicated to our craft. And we don't just repair phones - tablets, laptops, computers and gaming consoles are all fair game.
801-413-2863
9281 S. Village Shop Dr
84094